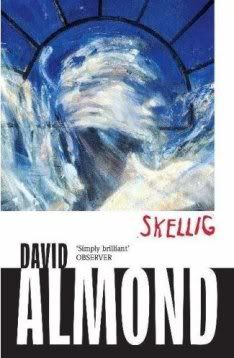 Publisher:
Hodder
Format:
Paperback
Released:
April 19th, 2007 (new ed.)
Grade rating:
B/B+
Amazon summary:
Michael can feel his sick baby sister's heart beating inside him, and as long as he can feel it he knows she is alive. But as her condition becomes life-threatening and the family faces the nightmare of an operation to save her life, Michael turns to his new friend Mina and the strange being, Skellig, who has been living beneath the crumbling garage at the family's new home.
Review:
Skellig
is one of those books I've heard a lot about but never got around to reading. Even the TV adaptation didn't make me rush out and buy a copy (as is usually the case), but this week I finally got hold of it. I'm glad I did because it's a lovely book - I now see why everyone speaks so highly of it!
Skellig
is simply written and quite short, but Almond packs so much in to its 170 pages. There's lots of character development, mystery and emphasis on friendship which, when you put them all together, makes for a fantastic read.
The story itself deals with a baby born prematurely, and what happens afterwards. Michael worries for his newborn sister, and in the process makes friends with home-schooled Mina. One day he finds a strange man in his garage, a man who eats flies and has a liming for Chinese food. The man is a special creature, and one that can help Michael and his family more than he realises.
I enjoyed
Skellig
, with it's haunting prose and underlying themes of grief and loss. I imagine it would be a comfort to anyone in a similar situation to Michael and his family, and I completely understand why it's become somewhat of a children's classic. It certainly leaves an impression on everyone who reads it, and I'll be starting on the prequel,
My Name is Mina
, very soon. I'm intrigued to see what Almond does with her complex character - I definitely want to know more about the mysterious Mina!