Keren David's latest excellent book,
Lia's Guide to Winning the Lottery
, is out now in the UK (you can read my review
here
), and is all about winning eight million pounds on the UK lottery. Wow, right?! I asked Keren what she'd do if she won that much money, and here is her response. What do you think? What would YOU do if you won the lottery? I think I'd raid Foyles and HMV, and buy shares in Amazon...
~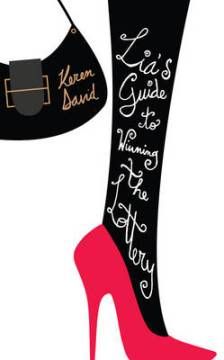 Ten things I'd do if I won the Lottery




Obviously we're talking mega-millions here…

1) I'd buy a big house with a huge garden. In this house I would have a swimming pool, a gym, a walk-in closet and an office where all admin would be carried out by a highly efficient personal assistant.

2) I'd design a writing room in my house. The walls would be painted white, there would be tons of natural light and no internet. A huge desk, lots of coloured pencils for doodling, a cork board for pinning stuff, a huge squashy sifa which I can lie on when I need to think things through. A fridge full of cherries and chilled water. An exercise bike.

3) I'd buy stuff for my kids, like a trampoline (to put in our ginormous garden), a table tennis table, a den where they could hang out with their friends. Obviously I'd have to find some way of making sure they didn't become complete spoilt brats. So I'd also be emphasising that they shouldn't expect to inherit my windfall, but they need to carry on working hard at school. However I would pay their university costs.

4) I'd hire a personal trainer, a driver, a housekeeper, a hairdresser, beautician and a cook (as well as the efficient personal assistant - who would, in fact do all the boring hiring for me). Hyper-ventilating just thinking about how scary but wonderful this would be.

5) I'd buy a lot of very nice clothes - chosen by a stylist with god taste - in which I will look elegant and smart, but will feel comfortable. And ditto shoes.

6) I'd book several holidays - New York, California, Australia, Italy, South East Asia.

7) I'd have to get a flat on the Cornelisschuytstraat in Amsterdam. We used to live here, and I love it. I'll go there as often as I can to drink koffie verkeerd in the Café De Joffers, buy bouquets of flowers and cycle around the Vondelpark.

8) Generous gifts for family and friends, so they wouldn't hate me. A nice big trust fund which will give me a massive annual income.

9) I'd book theatre tickets for lots of opening nights.

10) I'd set up a fund which would support my favourite causes. I'd split my time between giving away cash and writing. That's when I'm not on holiday, working out with the personal trainer, having my hair done, whizzing off to Amsterdam, going to the theatre and making sure my kids are on track with their school work.

Hmm… I wonder how much writing I'd actually get done?