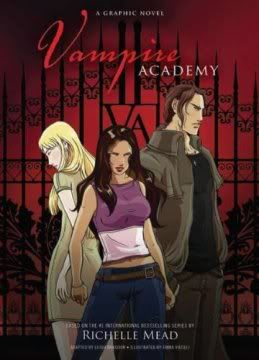 Publisher:
Puffin
Format:
Trade paperback
Released:
August 23rd, 2011
Grade rating:
A-
Amazon summary:
St Vladimir's Academy isn't just any boarding school - hidden away, it's a place where vampires are educated in the ways of magic and half-human teens train to protect them. Rose Hathaway is a Dhampir, a bodyguard for her best friend Lissa, a Moroi Vampire Princess. They've been on the run, but now they're being dragged back to St Vladimir's where the girls must survive a world of forbidden romances, a ruthless social scene and terrifying night time rituals. But most of all, they must stay alive.
Review:
Adapting anything into graphic novel format is never an easy job, but Leigh Dragoon has proved that it can be done, and very successfully too. With excellent artwork from Emma Vieceli, plus full support from
Vampire Academy
author Richelle Mead,
Vampire Academy: A Graphic Novel
should be set to fly off the shelves!
All the important plot twists and turns from the novel are presented here, with clever placing of the important facts that any new reader needs to know. Rather than read like a run-down list of what Strigoi, Moroi, guardian etc. means, it's all fitted seamlessly into the narrative and never weighs the pace down. That's an accomplishment in itself, as the
Vampire Academy
series has such a rich mythology and backstory that to explain it all literally takes whole novels. Obviously you just can't do that in comics, so Dragoon has adapted Mead's first novel and condensed it into a 120-page little gem of a book.
Now for the art. Rose and Lissa look exactly how I imagined them, but Dimitri is the real star here (of course!). Simply put, he looks HOTT. Yes, hot - with two T's! From his long hair to his chiseled features and body that makes
me
Rose swoon, he's perfection in ink. Honestly, I couldn't have asked for Vieceli to draw him any better than she has. SAWOON!
If you're a fan of the
Vampire Academy
novels, or even if you're a reader new to all its epicness, you'll love
Vampire Academy: A Graphic Novel
. It's the most enjoyable book I've read for a while, and manages to look awesome while doing Mead's original story justice at the same time. I only hope there will be one volume per book, and that we'll get a graphic novel of
Frostbite
very soon. Fangtastic!