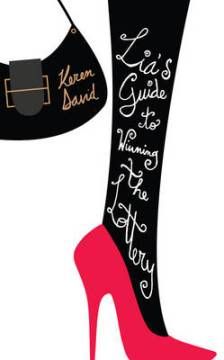 Publisher:
Frances Lincoln
Format:
Paperback
Released:
August 4th, 2011
Grade rating:
B+
Amazon summary:
Money can't buy you love. But it can buy many other very nice things. Lia's mum is a nag, her sister's a pain and she's getting nowhere in pursuit of the potentially paranormal Raf. Then she wins £8 million in the lottery, and suddenly everything is different. But will Lia's fortune create more problems than it solves? Everyone dreams of winning the lottery - but what's it really like?
Review:
Okay, so imagine winning the lottery. Eight million English pounds, to be exact. You'd be ecstatic, right? All your problems would be solved, you'd have no worries or cares, and everyone would love you. Or so you think. The truth is, money can cause just as many problems as it solves, and that's what Keren David explores here with
Lia's Guide to Winning the Lottery
. As Lia soon finds out, having a huge amount of money can cause more grief than you ever imagined, but it can also change your life for the better.
Through winning the lottery, Lia learns a lot about her family and friends and just what they're really like. Her beat friends start treating her differently, her friend's mum demands money for her son who bought Lia the winning ticket, and her family start planning their lives around money that doesn't belong to them. It's a tough situation to be in, but Lia manages to cope and stay relatively grounded. Sure, she travels in more taxis than usual and buys her friends extravagant gifts, but being rich isn't all she's interested in and she doesn't let it define her. I think that's such an important message to get across, and Keren David handles it all brilliantly.
As with most YA novels, there's a love interest in the form of mystery boy Raf. He and Lia get very close, and Lia helps him in more ways than she knows. Their relationship is mature and never forced, with issues of sex and feelings handled very carefully. These are older teenage characters making decisions for themselves, and all consequences are subsequently dealt with in the right ways. What I like about Keren's books is that she understands teenagers and how they think and act, and she never writes them as idealistic people. Instead she gives them flaws and bad decisions, not to mention a mind of their own. If her characters want to have sex, they have sex, and that subject is handled respectfully rather than being shied away from. It's refreshing to read about characters like Lia and Raf and I liked them both. They could easily have been my friends when I was a teenager, though I think my friends definitely had less drama in their lives.
Lia's Guide to Winning the Lottery
is another winner from Keren David, and it was so worth what seemed like an unbearably long wait. It's serious, funny, realistic and light-hearted, which is basically everything I've come to expect from this author. It made me think about how money - however big or small the quantity - has such a bearing on our lives, and how people's perceptions and motives can easily change. It's a thought-provoking read, but a highly enjoyable one!