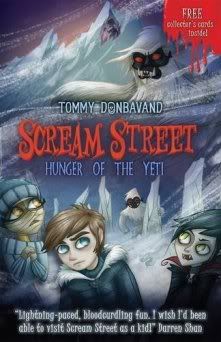 Publisher:
Walker Books
Format:
Paperback
Released:
April 7th, 2011
Grade rating:
A
Amazon summary:
Given that rock zombie Vein is now living in deepest darkest Tibet, the quest to return his tongue proves surprisingly easy for Luke, Resus and Cleo. What the trio hadn't bargained on, however, was a ravenous baby yeti stowed away in Resus's cloak and following them home! When the yeti's angry mother appears in Scream Street in search of her missing offspring, things really start to get hairy. Meanwhile, the clock is ticking...
Review:
By now, with this being my eleventh
Scream Street
review, I'm sure you're mostly familiar with the series, characters and premise. It's supernatural, comedic fiction for the 8+ age range and features some of the funniest lines of dialogue of recent years. Basically, if you have a child of this age, you should make this series a permanent fixture on their bookcase.
Hunger of the Yeti
not only left me with aching sides, it also left me with a desire to own a baby yeti (these things are so cute, I promise!) and Resus's magical cape that isn't unlike Hermione's bottomless bag. Honestly, the boy has everything in that cape - corridors, furniture, rotting meat to feed Dave the Leech... you name it, it's in there! So yes, a cape and a tiny yeti will definitely be finding themselves on my Christmas list this year.
My favourite three young paranormals end up in Tibet, land of the yetis, because they need to return zombie Vein's tongue and that's now where he lives. They sort that quite easily, but what they don't plan on is a baby yeti hitching a ride back to Scream Street with them. Chaos ensues in the usual Scream Street way, with many a surprise twist and turn cropping up before the end of the book. Something really clever happens too, but you'll have to read the book to find out what I'm talking about. It's fun, though not for poor Resus!
I only have one more
Scream Street
book to read, and this fact saddens me greatly. I read (when I say read, I mean devoured) book twelve,
Secret of the Changeling
, last week, and the final book is due for publication in October. It has a dragon on the cover so I already know I'm going to love it. Bring it on, Mr. Donbavand!