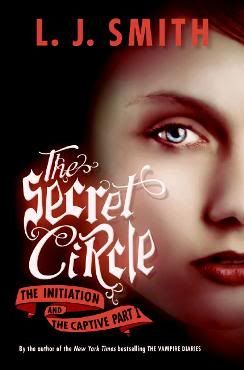 Publisher:
HarperTeen
Format:
Paperback
Released:
July 22nd, 2008
Grade rating:
B/B+
Amazon summary:
Forced to move from sunny California to gloomy New England, Cassie longs for her old life. Even so, she feels a strange kinship to a terrifying group of teens who seem to rule her school. Initiated into the coven of witches that's controlled New Salem for hundreds of years, she's drawn into the Secret Circle, a thrill that's both intoxicating and deadly. But when she falls for the mysterious and intriguing Adam, Cassie must choose whether to resist temptation or risk dark forces to get what she wants—even if it means that one wrong move could ultimately destroy her.
Review:
The Secret Circle: The Initiation
is the first L. J. Smith book I've read since I was 15 and still at secondary school. I've still never read
The Vampire Diaries
, though I am a big fan of
Night World
. I've heard a lot of negative things about Smith's books and writing over the last couple of years, but my friend Cat and the upcoming
Secret Circle
TV show made me want to unearth this from my bookshelf and give it a go. While I wasn't blown away like I was, and still am, with
Night World
, I genuinely enjoyed it and will be continuing the series. I hear it's very different to the TV show, though, so I'm quite glad I read this first!
The Secret Circle
is about witches. It focuses on Cassie and her move to New England (Salem - eek!), and a secret circle of witches who already live there. I won't go into her family and lineage for fear of spoilers, and instead I'll just say that Cassie has a connection to them that turns her life upside down. I saw it coming a mile away, but it's hard to miss seeing as it's the premise of the whole series.
I liked the characters in this book, even horrid Faye. Diana was probably my favourite, based on her kind nature and her instant offering of friendship to Cassie. Cassie was surprisingly good too, and she was a great lead for the rather large cast of people that made up the story. I'd say she was a bit bland at times, though I think she will grow on me as I read more of the series.
Reading about witches was a nice change for me, as recently it's been more angels, werewolves and my staple diet of vampires (no pun intended there). I don't know much about witchcraft aside from what I've picked up from watching
Buffy the Vampire Slayer
and
The Vampire Diaries
, but I think I like it. It's all powers and spells and old witches in creepy towns. I'll be reading more witchcraft books, I'm sure.
I liked
The Initiation
; it was fast moving and easy to read. Before I knew it I was halfway through the book and fully immersed in everything going on. I think that's always been L. J. Smith's strong suit: once you're a few chapters into her books, you're generally hooked and can't bear to put it down. I'll have to try
The Vampire Diaries
one day, as I think I've just rekindled my love for old-school paranormal YA. And you know what? It's still just as good over a decade later!