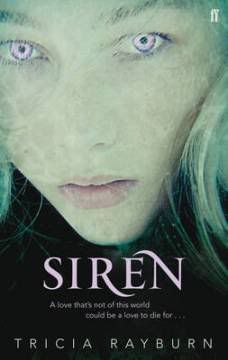 Publisher:
Faber and Faber
Format:
Paperback
Released:
January 20th, 2011
Grade rating:
B/B+
Amazon summary:
Something deadly waits beneath the waves off Winter Harbour, and this summer, no one's safe. Seventeen-year-old Vanessa Sands is afraid of the dark. And heights. And the ocean. And pretty much everything else. Fortunately, Vanessa's fearless older sister, Justine, has always been there to comfort her. That is until Justine jumps off a cliff near their family's holiday home in Winter Harbour, her lifeless body washing ashore the next day. Everyone assumes that the tragedy is an accidental result of Justine's adventurous ways. Everyone, that is, except Vanessa. Vanessa returns to Winter Harbour alone, looking for answers from Caleb Carmichael, Justine's summer love who was with her when she jumped. But when Vanessa learns that Caleb has been missing since Justine's death, she joins forces with Caleb's older brother, Simon, to try to find him.
Review:
I first heard about
Siren
when it was published in the US last year. Something about it just didn't grab me so I never bought a copy, and it wasn't until a review copy arrived that I decided to give it a chance. Turns out it's actually quite good and I'm surprised at how much I enjoyed it - it's well written, engaging and something new to me. I don't think I've actually ever read a book about sirens/mermaids before this one, but I now want to read more. They're fascinating creatures, even if they do have a tendency to kill the male population!
Vanessa is left devastated after her sister, Justine, is found dead, and her grief is palpable on the page. She finds comfort in Justine's boyfriend Caleb and his older brother Simon and, as more people turn up dead, they realise the townsfolk are keeping deadly secrets that will ruin everything.
Tricia Rayburn definitely knows how to write YA characters. They all sound as you'd expect teenagers to sound, and there's no unnecessary slang or language inserted to draw attention to their age. Their friends Paige and Raina are less appealing than the main characters, Raina especially, but even they are true to form and hard to find fault with.
Siren
gets quite dark in parts, and it isn't a lighthearted read. People die in this story, and not in a magical come-back-to-life way. As the town's number of men diminishes, Vanessa, Caleb and Simon put themselves in danger time and time again to protect Winter Harbor and the people living there. Solving Justine's untimely death is also at the forefront of the plot, and I like how everything unravels and connects as the book progresses.
I enjoyed
Siren
a lot more than I thought I would. It fits nicely into the paranormal genre, but it's different enough to stand out. If, like me, you've been skimming past it on account of the dark cover and paranormal elements, do pick it up and give it a read. Aside from a few clunky slow parts and one less than desirable character,
Siren
is a solid book to start this series with. I'm looking forward to reading the sequel!