Fury
was officially published in the UK yesterday (my review is
here
; it's an ace book!) and I'm very excited to be part of Elizabeth's blog tour. Thanks for writing such a fun post, Elizabeth! Check out
Writing from the Tub
tomorrow for the next blog tour stop.
~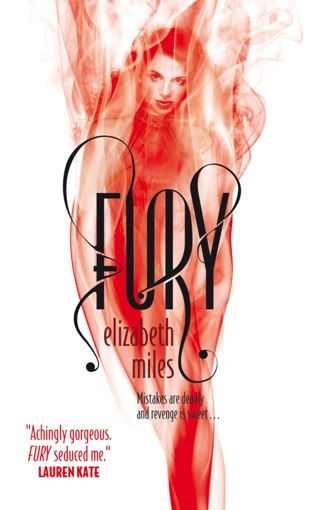 Eek! When I was asked to write a guest post about
Fury
dream movie casting, I have to admit that I was a little freaked out. I know I've said a few things here and there on this subject (for example, I love Elle Fanning; I think Emma Roberts could do a good Ty; I adore Emma Stone...), but the truth is that I am not sufficiently "tuned in" to who's who in the teen acting world to speak with authority on it.
Soooooo, I thought that instead, I could describe a little bit about what I would say to a casting director—striking physical characteristics and personality traits I would look for among potential candidates. I would love to hear from readers (of the book and of this blog post) about who they think fits these character descriptions. I'll keep a running list of suggestions I receive along the way and update everyone periodically.
I'm including some reference points (i.e. actual actors and actresses), but you'll see that I'm all over the place in terms of age-appropriateness.
Em: Tall. Fit. Unconventionally pretty. Dark hair. Depth. Like Anne Hathaway, a little bit? Or Veronica Mars (Kristen Bell), if she had darker features, was taller, and was popular.
Chase: Attractive, in a studied way. Pulled together, clean-cut. Josh Hutcherson-ish, because I think he can also do anger well, as he did in
The Kids Are All Right
. Or Chuck Bass.
Zach: Hot without even trying. Ability to be a total asshole but still seem appealing. I picture a Josh Lucas/Alex Pettyfer type – annoyingly attractive.
Gabby: Blond and cute. (In Book Two she cites Reese Witherspoon as her idol.) Truly kind, sparkly eyes, bright smile. Kristen Bell would work here physically but she might have a bit too much bite, personality-wise. Kirsten Dunst in
Bring It On
.
JD: Angular. Tall, if a bit gangly. Smart. Quirky. Ability to look not-hideous in weird clothes. You know, Penn Badgley on Gossip Girl but less pretentious?
Drea: Dark hair, dark eyes. Beauty hidden underneath makeup and sarcasm. Kind of like Lizzy Caplan in
Mean Girls
.
The Furies: All must be the kind of girls you would look twice at.
Ty: Supermodel-esque—height, hair, eyes. Assertive. Confident. There's this one picture of Emma Roberts with kind-of auburn hair that made me think she could do it.
Ali: Voluptuous, blond-bombshell type. Described in the book as looking like Scarlett Johansson. Wide, toothy, pretty smile (think Julia Roberts). Amanda Seyfried? Hayden Panettiere? Blake Lively?That sort of thing.
Meg: Elfin. Bird-like features. Think early Winona Ryder. Or Elle Fanning.
~

Chase like Chuck Bass?! Err, YES PLEASE! Now that is definitely a dream movie cast. Hope you're reading this, Mr Ed Westwick...
What do you guys think? Do you have any suggestions?
For more information on Fury and Elizabeth, visit the following links: