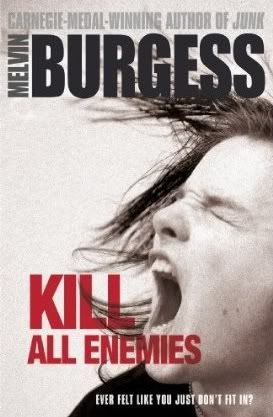 Kill All Enemies
by the brilliant Melvin Burgess is now published in the UK, and to celebrate Melvin is participating in a UK blog tour! I'm really excited to be hosting a stop on this tour as I've been a big fan of Melvin's writing for years. Anyway, over to him...
~






The Tranmere Community Center

by Melvin Burgess



Doing my research for

Kill All Enemies

, I visited a great many institutions in the North West - mainly PRU's but also other places. One of the first was the Tranmere Community Project in the Wirral. The Tranmere is a charitable organisation for young people who have "disengaged from learning." In practise, that means they've been excluded from school.

Like nearly all places dealing with disengaged teenagers, the Tranmere operates on not enough money and without much support on all sorts of levels. A lot of people and organisations tend to regard these places not so much as organisations designed to help young people with specific needs, but as dumping grounds and rubbish bins. For instance, the number of young people they have to deal with varies throughout the year depending on what was going on locally. Numbers go up steeply just before exams or if there's an Offsteding nearby. In other words, schools want the child there most of the time so they can get their hands on the funds that go along with each student they have on their books – but want to offload them when it might affect their performance in other ways.

Bully for the local schools – not so good for the young people being shuffled from pillar to post, not according to their needs, but to the needs of the school. But that's life; it's school eat PRU out there. Despite coming, like the children it serves, at the bottom of the pile, the Tranmere has an excellent reputation and was often dealing with some very difficult kids.

At the time when I visited them, over two years ago now, the Tranmere offered a variety of different activities, ranging from cookery – fairly basic from what I saw – and PE and various lessons. Nothing all that different there from many other plaes I saw. But one thing that was different were the PD sessions.

PD – Personal development. At first I wasn't very impressed. It looked like games. A group would sit around the table and be given some really very simple tasks. You might talk about which animal you'd want to be at the zoo, or what your dreams were, if you could be anything you wanted. Another one was called, "The Roles you Play." With all the different people we are in our lives, we take on a different role. You might be loving with one person, a loudmouth with another, thoughtful with yet another.

Nothing difficult about it. I rather suspected they might be just keeping the kids occupied – giving them something undemanding and easy to do to pan out their time.

But, then someone starts talking. "Why do you want to be a baby deer, Lisa?" can actually be the start of something very revealing. Lisa might be being bullied at home, or she might want to be loved, or she might just want to look cute to other people; but there will be reasons for that, and by starting from such an innocent and easy exercise, you can end talking about the issues that are central to your whole life. That can be incredibly revealing, partly to the leader of the group, but mainly, of course, to the young person.

The overall effect is summoned up in the name of the game – Personal development. The kids at the Tranmere were by and large not well educated, had few advantages in life – but their self awareness was off the page. It was really remarkable. They could talk abut relationships, motives, feelings, themselves, other people. They knew exactly how they worked, what made them kick off, what made them tick - what their psychology was. It was quite a revelation for me – poorly educated kids who talked like psychologists.

In fact, many of those young people had a head start in this sort of thing anyway. Most of them had shared their lives with some pretty difficult sorts themselves, and there is nothing like unpredictable people around to sharpen up your people-watching skills. A lot of those kids, in some ways, are half wild – it's their biggest asset as well as their biggest disadvantage – and they can tell where you're going before you know it yourself. I often think that one of the biggest problems the teachers have with young people from disadvantaged communities is that the teachers are so disadvantaged themselves - the kids are always three or four steps ahead. It's like trying to put a fat old tabby in charge of twenty or thirty hungry young wildcats.

But the PD sessions focussed that strength, and turned that quick vision onto themselves. The result was a group some of the most astonishingly self aware young people I've ever met.

All very fascinating. Of course you need to know the details of how places work, but in the end, if you're researching a novel, it's all about the people. I fact, the whole idea of this particular book was the people. I wanted real stories told by real people; it was just a matter of finding them. Over the years I've found that the stuff you want is usually right there, lying on the surface. If you have to dig, it's not usually gold. The gold is right there, at the front of people's minds. It's the things that they know best of all. The trouble is, they don't always realise that that's what you're looking for.

So towards the end of the day I asked the staff if there was anyone they particularly remembered – someone who stuck in their minds. They knew at once what I was talking about. The faces lit up.

"That'll be our Billie," they said. (Not her real name, I should add …)

Phone calls were made and Billie came in to have a chat. I'll be talking about her and her story tomorrow at The Book Zone (for boys).
~

Giveaway

Thanks to Puffin, I have one (1) copy of
Kill All Enemies
to give away.
Rules & info:
Open to

UK residents only.



End date: September 15th, 2011.

One entry per person

.

You do NOT have to follow my blog to enter.

Books will be sent out by the publisher.
Just fill in the form below to enter. Good luck!