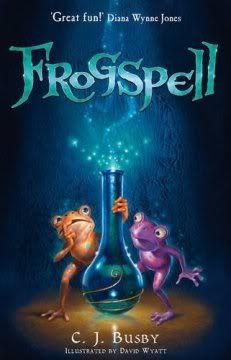 Publisher:
Templar
Format:
Paperback
Released:
September 1st, 2011
Grade rating:
B+
Amazon summary:
Would-be wizard Max, his sister (who wants to be a knight), two humorous pet animal characters - Ferocious, a world-weary rat and Adolphus, an over-enthusiastic young dragon, encounter magic, double-dealing, Morgan le Fay's schemes to win the throne from Arthur, magical quests and more.
Review:
Frogspell
is the first in a four-book series for younger readers set in the time of Camelot, King Arthur and Merlin. It's funny, kooky and full of endearing characters or all shapes, sizes and disguises, and I can't wait for the next one! I didn't think I'd enjoy it as much as I did, but I've always liked Arthurian legends and adaptations like the TV show
Merlin
, so I think I was always destined to like this fresh new twist on things. Plus, there's a dragon!
Max and his sister Olivia are fab characters to introduce this story, along with their companions Adolphus the dragon and Ferocious the rat. They get into all kinds of muddles and scrapes when Max accidentally turns himself and Olivia into frogs (orange with green spots and purple with red spots, in case you wondering), thanks to a wayward magic spell that has less than its desired effect. Many adventures occur, including meetings with Lady Morgana and the wise wizard Merlin, as well as Ferocious meeting an oversized lake pike and Adolphus discovering that his flying is actually quite wonky. Basically all a day's work in Camelot!
Frogspell
also features illustrations by David Wyatt at the start of each chapter, all of which add to the story and make it that much more magical. My personal favourite piece of art is from the chapter titled 'Kidnapped', flying away with Ferocious on his back a big frog between his claws. It's a brilliantly fun book and I'm very glad there are more on the way - I just hope they'll be as good as this one. Oh, and Ms. Busby: if Adolphus ever needs a new home, please send him over to me!