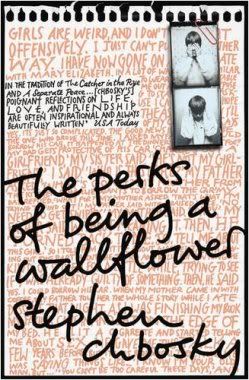 Publisher:
Pocket Books
Format:
Paperback
Released:
February 2nd, 2009 (new ed.)
Grade rating:
A-
Amazon summary:
Charlie is a freshman. And while he's not the biggest geek in the school, he is by no means popular. Shy, introspective, intelligent beyond his years yet socially awkward, he is a wallflower, caught between trying to live his life and trying to run from it. Charlie is attempting to navigate his way through uncharted territory: the world of first dates and mixed tapes, family dramas and new friends; the world of sex, drugs, and The Rocky Horror Picture Show, when all one requires is that perfect song on that perfect drive to feel infinite. But Charlie can't stay on the sideline forever. Standing on the fringes of life offers a unique perspective. But there comes a time to see what it looks like from the dance floor.
Review:
I've had
The Perks of Being a Wallflowe
r on my shelf for a couple of years now. Although it's been published here in the UK as an adult novel, I'm pretty sure it's YA, though I could be wrong. While some of the content is a little more adult than young adult's might be used to, it's all relevant to Charlie's story and the growing up he does between his freshman and sophomore years of high school.
The Perks of Being a Wallflower
uses first person narrative by a male teenager using the alias of "Charlie", and is told in the form of letters written to an anonymous person. It chronicles his freshman year in a Pittsburgh high school: the friends he makes, the loves he experiences and the realisations he comes to. At the start of the book Charlie is a wallflower: he's quiet and introverted, and prefers to watch life rather than participate in it. His one and only friend committed suicide at the end of the last school year, so Charlie is truly alone when we meet him. He reads, he writes, he cries, he's overly sensitive (at times this irritated me) and is the kind of good guy every mother hopes their daughter will be friends with. It isn't until he meets brother and sister duo Patrick and Sam that he starts to come out of his shell, and his journey of self-discovery is a fascinating one.
I found this book to be quite simple, both in style and content, but still I couldn't put it down. Charlie's life makes for compulsive reading, even though he's only going through the mundane, everyday tasks that most of us also go through. He experiences drugs for the first time, he gets his first kiss, drives his first car, yet all this normal stuff seems somehow bigger, more important when it comes to him. He over-thinks, over-analyzes everything, but it works for him and he sticks with it. His teacher, Bill, shows a belief in him that so far he's only seen from his Aunt Helen, and plies him with an array of books to read. Charlie realises that friends can come from all directions, and that being intelligent doesn't have to mean that all other, more fun, aspects of life need to be neglected.
The Perks of Being a Wallflower is set over the years of 1991 and 1992, when Nirvana were just making it big with '
Nevermind
' and underground bands were at their best. There are many pop culture references to books, films and music, including
Rocky Horror Picture Show
,
To Kill a Mockingbird
and 'Asleep' by 80's Manchester band The Smiths. I love any book that references other media, whatever form it may take, and this was just one extra reason why I enjoyed it so much. I actually felt like I was back in 1991, listening to 'Asleep' on a mix tape with the car windows down as I drove through a Pittsburgh suburb. That would have been impossible as I was only four years old in 1991, but Stephen Chbosky somehow transported me back to a time and a place that I could never have known. I wanted to be there, in that car, with Charlie, Sam and Patrick, feeling infinite just as they did in that moment, when music was all they had and it transcended everything. What a magical, amazing feeling that is.
I never for one minute expected to like
The Perks of Being a Wallflower
as much as I did, and I've since told myself off for leaving it for so long. I can see why it's a coming of age classic and I sincerely hope that 2012's movie adaptation will do it justice. I feel like I have a new friend in Charlie who, like me, will always have a part of himself that fits into the wallflower category. I think I'll be re-reading this one very soon, and I urge you all to read it too.