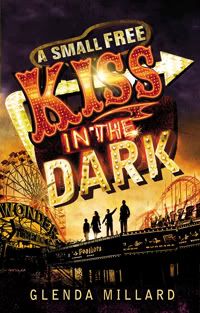 Publisher:
Templar
Format:
Paperback
Released:
May 1st, 2011
Grade rating:

B
-
Amazon summary:
Skip's an outsider. He's never fitted in. So he takes to the streets. Life there may be hard, but it's better than the one he's left behind, especially when he teams up with Billy, an old homeless man. Then come the bombs which bring little Max and Tia, the sad dancer with a tiny baby. Scavenging for food, living on love and imagination, Skip's fragile new family tries to hold out as war grips the city, but too soon tragedy strikes when Tia dies. Max, Billy, Skip and the baby move on, to an old farm where they try to find new hope.
Review:
I don't know what I was expecting from
A Small Free Kiss in the Dark
, but it wasn't what I got. What I got was a touching story of family and courage set amongst a post-apocalyptic backdrop of war and desolation. It's a short book, but it's one of those that doesn't need hundreds of pages to get its point across. Millard's writing is sharp and succinct, which suits Skip and his story perfectly. Skip's a simple soul, and after being abandoned by his father and numerous foster homes, he lives on the street. It's not until war ravages the streets where he resides that he meets anyone he can call a family, and for him the war brings with it something beautiful.
Skip meets Billy soon after the bombs fall, and together they do their best to stay alive. Along the way they also find a small boy who's lost his mother, as well as a young girl, Tia, with a baby they name Sixpence. Billy is the strength and knowledge of the story, he's an old man so he's seen everything and lived through a lot. He passes his wisdom onto Skip as the story progresses, and Skip in turn becomes a wise boy who I'm sure is destined for great things. He forms a bond with Billy that becomes like that between a father and son, and he also treats Max as if he were his own brother. These unlikely survivors all find solace in each other's company, and they create their own sense of family. It's a lovely thing to read about, and it's what has stood out most about this book.
Although I liked all the characters and what they stood for, I still feel like something is missing from
A Small Free Kiss in the Dark
. Maybe it's that the war was never explained, so I never knew why these people were on the run. I'd like to say it didn't matter to me, but it did. I'm a great lover of detail and backstory, and that's where I think this book was lacking. It gets top marks for being character driven, but it wasn't enough for me. I was, however, very impressed with Millard's writing, and I'm actually really looking forward to reading more by her.
A Small Free Kiss in the Dark
is a short novel I'm sure a lot of people will love, it just didn't hit the right spot for me. Do give it a go, though, as it's an uplifting, hopeful story with a main character you can't help but root for.