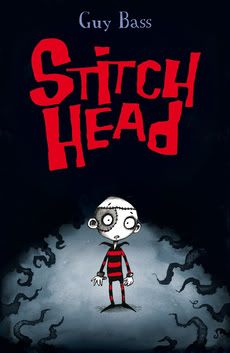 Publisher:
Stripes Publishing
Format:
Paperback
Released:
August 1st, 2011
Grade rating:
A-
Amazon summary:
In the maze-like dungeons of Castle Grotteskew, the frightfully insane Professor Erasmus conducts his bizarre experiments on living things. His very first creation has been long forgotten - a small, almost-human creature, known only as Stitch Head. Poor Stitch Head has spent years vying for attention amongst a menagerie of freakish monsters. When a travelling circus ringmaster, Fulbert Freakfinder, promises to make him a star, Stitch Head wonders whether there is another life for him. But first he has to catch the professor's latest creation - a monstrous three-armed creature that's just smashed its way to freedom...
Review:
Stitch Head
is a new gothic children's novel similar in style to
The Raven Mysteries
and
Undead Ed
, and is the first book by Guy Bass that I've read. It's funny and kooky, while at the same time heartfelt without being mushy. It's also full of monsters, castles and mad scientists - what more could you want?!
Stitch Head
is about a tiny boy who was Professor Erasmus's first ever creation. Erasmus makes all kinds of monsters with multiple limbs or missing eyes, and he does all this within the walls of Castle Grotteskew in the town of Grubbers Nubbin (population: 665). Poor little Stitch Head has been forgotten by the professor, so spends all his time roaming the castle ensuring that no new monsters eat anyone. Nothing changes for him until Fulbert Freakfinder's Travelling Carnival of Unnatural Wonders arrives in town and offers to make him unforgettable. Things don't go quite to plan, though, and Stitch Head finds himself on a very big adventure for a boy his size!
I loved this book right from page one. Stitch Head is a character right up my street: he's flawed, tiny and very, very brave. I felt really sorry for him and his loneliness within Castle Grotteskew, and I was glad when he made friends with a new creation called Creature. Over the course of this book, Stitch Head realises how important friendship is and how forty years of being a cobweb magnet doesn't mean he can't go out and almost-live. Aww!
My favourite children's illustrator, Pete Williamson, is a huge part of this book, and he makes Stitch Head and the other characters and settings come alive. He's made Stitch Head look like a cute, tiny boy that gets clothing tips from Dennis the Menace, while Castle Grotteskew looks super gothic as it looms over the town. He and Guy Bass make a great team, so much so that I'm very much looking forward to the next Stitch Head book. This series is definitely one for fans of
The Raven Mysteries
and
Scream Street
- it's dark, monstrous fun!