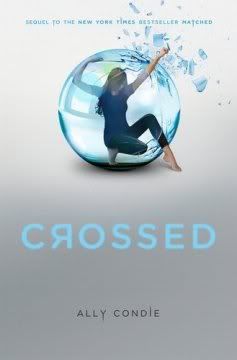 Waiting on Wednesday idea from Jill at Breaking the Spine.
-----
Crossed
by Ally Condie
* Published by: Puffin (UK), Dutton Juvenile (US)
* Format:
Trade paperback (UK), Hardcover (US)
* Release Date: November 24th
, 2011 (UK), November 1st, 2011 (US)
* On Amazon:

here




Summary from Amazon.com:

*CONTAINS

MATCHED

SPOILERS*


In search of a future that may not exist and faced with the decision of who to share it with, Cassia journeys to the Outer Provinces in pursuit of Ky - taken by the Society to his certain death - only to find that he has escaped, leaving a series of clues in his wake.
Cassia's quest leads her to question much of what she holds dear, even as she finds glimmers of a different life across the border. But as Cassia nears resolve and certainty about her future with Ky, an invitation for rebellion, an unexpected betrayal, and a surprise visit from Xander - who may hold the key to the uprising and, still, to Cassia's heart - change the game once again. Nothing is as expected on the edge of Society, where crosses and double crosses make the path more twisted than ever.
I LOVED

Matched

when I read it last year. It was one of my top 5 reads of 2010 and I've been [im]patiently waiting for

Crossed

ever since. I know quite a few people who didn't like it, but I personally thought it was really well written, exciting and original. (I haven't read

The Giver

, though, so I don't get those comparisons yet). Anyway, the point of this post is to share my excitement for this book. I'm counting down the days!