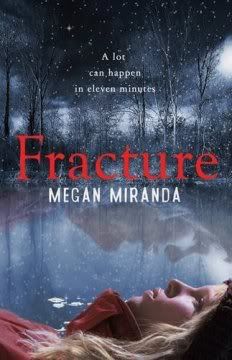 Publisher:
Bloomsbury
Format:
Paperback
Released:
January 5th, 2012
Rating:
7.5/10
Amazon summary:
By the time seventeen-year-old Delaney Maxwell is pulled out of the icy waters of a frozen lake, her heart has stopped beating. She is in a coma and officially dead. But Delaney pulls through. How? Doctors are mystified. Outwardly she has completely recovered. But Delaney knows something is very wrong. Pulled by sensations she can't control, she finds herself drawn to the dying. Is her brain predicting death or causing it? Then Delaney meets Troy Varga, who lost his whole family in a car accident and emerged from a coma with the same powers as Delaney. At last she's found a kindred spirit who'll understand what she's going through. But Delaney soon discovers that Troy's motives aren't quite what she thought. Is their gift a miracle, a freak of nature - or something much more frightening?
Review:
Fracture
is probably one of the best YA thrillers I've ever read. It was less supernatural than I thought it would be, very well written and hard to put down. Megan Miranda created a selection of characters that were both likeable and realistic, and even her romantic elements didn't come across as forced or false like many do these days. It was a really refreshing read and a great book to choose to end my reading funk - I thoroughly enjoyed it!
Without giving too much of the plot away, I can say that
Fracture
is about 17-year-old Delaney Maxwell, a girl who survives after being under icy water for eleven minutes. Technically, she was dead and should have been permanently brain damaged. Instead she's something of a medical miracle, waking up and living her life as normal. Only things aren't normal: she feels a strange pull in the direction of dead people.
This whole concept was something I don't remember coming across before which, I have to say, is rather unusual these days. It was cleverly executed, and it was believable without being too far out in the realms of impossibility. It was an interesting gift that Delaney found herself with, and as she meets Troy and learns more about it, proceedings unfold at quite an alarming speed. The course of life and death could easily be messed with and altered, the only question is: will she do it?
Along with Delaney and Troy, Decker, Delaney's best friend and next door neighbour, was also a major part in
Fracture
. He wasn't just the token male romantic interest or the boy needed to make the girl come out of her shell. He was a genuinely well-written, likeable guy who had an important role to play in Delaney's life. In fact, he's one of the most memorable male characters I've read about recently, and I think Miranda did a great job of bringing him, and his friends, to life.
Fracture
didn't affect me like my all-time favourite books have done, but it kept me hooked and made me think. It raised all kinds of questions about life, death and the universe - some of which I'm still pondering a few days later. I was pleasantly surprised with this one and I hope you will be too. It was a great debut novel to end 2011 on!