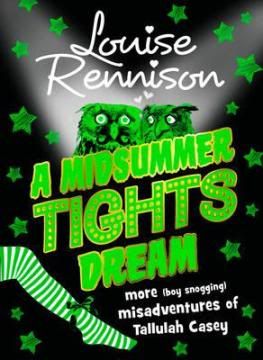 Publisher:
HarperCollins
Format:
Hardcover
Released:
February 2nd, 2012
Rating:

6/10
Amazon summary:
Yaroooo! Tallulah's triumphant Heathcliff in 'Wuthering Heights' the comedy musical was enough to secure her place at Dother Hall performing arts college for another term. She can't wait to see her pals again, Charlie and the boys from Woolfe Academy and maybe even bad boy Cain… Could the bright lights of Broadway be calling? And for who?
Review:
This is the second book in the Tallulah Casey series, which is Louise Rennison's first post-Georgia Nicolson outing. It's written in a very similar style to the Georgia books, though it doesn't have as many diary entries. It's not quite as funny but I do find myself chuckling quite a bit - Tallulah gets up to some hilarious things!
Now don't get me wrong, I do like this series, but I think that a lot of the jokes and humour have been seen before, and sometimes I almost feel like I'm reading a Georgia book. I would have liked this series to be written in a separate style to differentiate between the two, although a lot of Rennison's humour does lie in diary-style entries.
Despite all that, I did still enjoy this book. Tallulah is still on a mission to showcase her drama abilities at Dother Hall, she's surrounded by many boys, some of which are just plain mental and reminiscent of Mark Big Gob, and her friends are just as mad as she is. I also love all the parallels to
Wuthering Heights
- vast Yorkshire moors and all that. Rennison takes the mickey in a nice way!
I'll definitely be reading the next Tallulah book when it's published in 2013, and I hope it will be a bit stronger than this one. It must be very difficult for authors to compete with their own previous series, but Rennison is giving it a good go. Still, no-one comes close to Georgia!