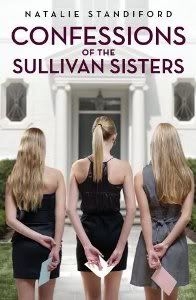 Publisher:
Scholastic Press
Format:
Hardcover
Released:
September 1st, 2010
Rating:
7/10
Amazon summary:
The Sullivan sisters have a big problem. On Christmas Day their rich and imperious grandmother gathers the family and announces that she will soon die . . .and has cut the entire family out of her will. Since she is the source of almost all their income, this means they will soon be penniless.

Someone in the family has offended her deeply. If that person comes forward with a confession of her (or his) crime, submitted in writing to her lawyer by New Year's Day, she will reinstate the family in her will. Or at least consider it.
Review:
I'm quite a big fan of Natalie Standiford, and it all stems back to when I first read
How to Say Goodbye in Robot
. I fell head over heels in love with that book and, while
Confessions of the Sullivan Sisters
was good, for me it didn't come close to Standiford's debut novel.
Confessions of the Sullivan Sisters
is a contemporary story about three sisters and their rich family life. Almighty, their incredibly wealthy grandmother, tells them she's dying, someone has upset her and that the family will be cut out of her will unless the culprit confesses their crimes by New Year's Day. How deliciously cool and twisted is that? I think it's quite a genius plot, if I'm honest. It's like what would happen if the Pretty Little Liars had to open up about all of their sordid affairs! Teenagers and secrets go well, which is obviously what Standiford tapped into here.
This book is split into three parts, each told by one of the Sullivan sisters: Norrie, Jane and Sassy. They all have secrets to spill - some worse than others, some truly disastrous for the family and some that are a bit misguided. None of the confessions really shocked me or were as bad as I thought they would be, though I have to say that Jane's is probably the worst. Hers was my favourite part of the book, actually. She's my kind of girl!
While I read this book pretty fast, I didn't find it all that compelling. Not like the aforementioned
How to Say Goodbye in Robot
. None of the Sullivan sisters struck a particularly strong chord with me, though I did enjoy reading about their lives in the upper class.
Confessions of the Sullivan Sisters
is a fun book that unfolds piece by piece, and the idea is great. The characters unfortunately didn't win me over like they could have done, but they're still a worthy addition to what I hope will be a long YA writing career for Standiford. Now to wait for her next book,
The Secret Tree
. It sounds all kinds of awesome!