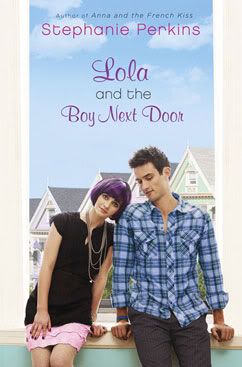 Publisher:
Dutton Juvenile
Format:
Hardcover
Released:
September 29th, 2011
Rating:
8/10
Amazon summary:
For budding costume designer Lola Nolan, the more outrageous, the outfit - more sparkly, more fun, more wild - the better. But even though Lola's style is outrageous, she's a devoted daughter and friend with some big plans for the future. And everything is pretty perfect (right down to her hot rocker boyfriend) until the dreaded Bell twins move back into the house next door.

When the family returns and Cricket - a gifted inventor and engineer - steps out from his twin sister's shadow and back into Lola's life, she must finally reconcile a lifetime of feelings for the boy next door.
Review:
Stephanie Perkins is, without a doubt, one of my favourite contemporary YA writers. She's up there with the likes of Jenny Han and Elizabeth Scott, who are also both brilliant. Perkins' novels are really easy to read and get lost in, and
Lola and the Boy Next Door
is a fantastic, romantic addition to her growing library of novels. I was hooked within the first couple of chapters and didn't put it down until I'd finished it!
As was the case with Perkins' first novel,
Anna and the French Kiss
,
Lola and the Boy Next Door
features characters so layered and complex that they actually seem real. So much time and effort seems to have gone into making them this way, and every little detail is presented and explained on the page. I come away from these books feeling like I really know these people and understand what they're going through, and that to me is great storytelling.
Lola and the Boy Next Door
is about exactly what the title suggests: Lola Nolan and Cricket Bell, the boy who moves back to the house next door after two years away. Even though Lola already has a boyfriend, the sexy bad boy Max, there's something about Cricket that leads her to reevaluate her life and her choices. It's typical of teen drama, there's nothing new in terms of plot, but the way Perkins writes her characters is what makes all the difference. It seems almost effortless, although I'm sure it actually isn't!
I liked every character in
Lola and the Boy Next Door
, especially lovely Cricket and Lola's parents Andy and Nathan. They're the coolest gay parents I've read about, and props to Perkins for rightfully including them in her story. She rocks! I also liked Lola, but not as much as Anna, which brings me to one of the most exciting parts of the book: cameos by Anna (*fangirl*) and Etienne (*swoon*)! I couldn't have asked for more, really.
Although I really did enjoy
Lola and the Boy Next Door
, parts of it seemed a little unrealistic, like how Lola could make an item of clothing perfectly in just one night. I also didn't like it quite as much as
Anna and the French Kiss
, though it wasn't far off. I can't wait to read Perkins' next book, even though it's not being published until 2013. I'm sure it will be well worth the wait!