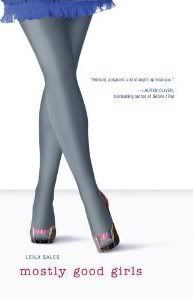 Publisher:
Simon Pulse
Format:
Hardcover
Released:
October 5th, 2010
Rating:
5/10
Amazon summary:
It's Violet's junior year at the Westfield School. She thought she'd be focusing on getting straight As, editing the lit mag, and figuring out how to talk to boys without choking on her own saliva. Instead, she's just trying to hold it together in the face of cutthroat academics, her crush's new girlfriend, and the sense that things are going irreversibly wrong with her best friend, Katie. When Katie starts making choices that Violet can't even begin to fathom, Violet has no idea how to set things right between them. Westfield girls are trained for success—but how can Violet keep her junior year from being one huge, epic failure?
Review:
I wanted to love this book and, while I liked it, I didn't think it lived up to all the online hype I'd heard. I think this was a case of my high expectations getting the better of me, as I was fully prepared for a laugh-a-minute book like
Sloppy Firsts
but at a posh girl's school. Maybe my sense of humour was out of sync, because I didn't find it all that hilarious. Certain snippets of dialogue made me laugh, but that was about the extent of it for me.
I liked both Violet and Katie and their different personalities. Their friendship was one of those that lasts forever, even though it may hit a barrier or two along the way. Acceptance and diversity were also things I took away from
Mostly Good Girls
, in the sense that it's okay to stand out from a crowd of seemingly identical girls. What's right for one person won't be right for someone else, and Leila Sales did a great job of highlighting just that.
The private school setting was awesome, and it reminded me of Constance Billard from
Gossip Girl
. That is exactly what I imagine all private girl's schools to be like, complete with uniforms and a distinct lack of boys. Basically my worst nightmare! I'm looking forward to reading more from this author. She's definitely a talented writer, but this book unfortunately didn't do much for me. I hope I'll like Leila's next book,
Past Perfect
, more than I did this one. Fingers crossed.