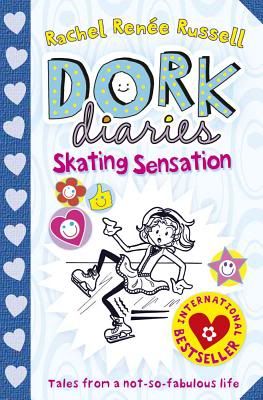 Publisher:
Simon & Schuster Children's
Format:
Paperback
Released:
June 7th, 2012
Rating:
8/10
Amazon summary:
Nikki Maxwell isn't at all surprised to find out that her crush Brandon volunteers at a local animal shelter. He's such a sweet guy - of course he wants to help those adorable puppies! Then Brandon tells her that the shelter is in danger of closing, and Nikki knows she can't let that happen. Especially when she discovers a shocking secret about Brandon that makes keeping that shelter open more important than ever. So Nikki and her friends Chloe and Zoey enter an ice skating competition to help raise money for the shelter, but (big surprise) Mackenzie has to stick her nose in and cause trouble so that she can be the one to swoop in and save the day. No way will Nikki let that happen: She'll just have to come up with some extra creative ideas this time!
Review:
Queen of Dorks Nikki Maxwell is back in
Skating Sensation
, the fourth book in Rachel Renee Russell's
Dork Diaries
series. I think this is the best book in the series so far, I couldn't put it down and read it cover to cover. I laughed more than usual, too - this series has always been very funny so I was surprised at that. They're just getting better and better!
In
Skating Sensation
, Nikki and best friends Chloe and Zoey take part in a Skate-a-thon, sponsoring an animal shelter in trouble. Brandon, Nikki's crush, just happens to help out there, so she's desperate to make a good impression on the ice. And this is where the humour comes into it, because Nikki can't skate! Her friends and family create all kinds of diversions to mask her inability to skate, some with hilarious consequences! And let's not forget Nikki's arch-nemesis Mackenzie. Where's there's Barndon, there's Mackenzie, annoying wannabe it-girl with hair that's far too big for her head. Still, a good rivalry never hurt anyone. I don't think...
Nikki's family are on form in this book, and once again they proceed to embarrass her in public. Her younger sister, Brianna, gives a truly spectacular performance at a post ballet show, which had me in fits of laughter. Honestly, it was probably the highlight of the book for me. The accompanying illustrations made it even better, as I got to see the chaos that ensued with my own eyes. Excellent!
I absolutely love this series, even though I'm neither a tween nor a teen. It's funny, realistic and totally mental and I can't wait for the next book. I wish books like this had been around when I was growing up; I'd have gobbled them up at an alarming rate, I'm sure!