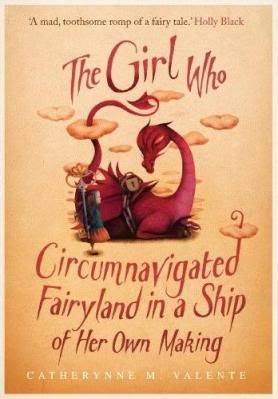 Publisher:
Corsair
Format:
Trade paperback
Released:
June 7th, 2012
Rating:
8/10
Amazon summary:
Twelve-year-old September lives in Omaha, and used to have an ordinary life, until her father went to war and her mother went to work. One day, September is met at her kitchen window by a Green Wind (taking the form of a gentleman in a green jacket), who invites her on an adventure, implying that her help is needed in Fairyland. The new Marquess is unpredictable and fickle, and also not much older than September. Only September can retrieve a talisman the Marquess wants from the enchanted woods, and if she doesn't . . . then the Marquess will make life impossible for the inhabitants of Fairyland. September is already making new friends, including a book-loving Wyvern and a mysterious boy named Saturday.
Review:
The Girl Who Circumnavigated Fairyland in a Ship of Her Own Making
, or
Fairyland,
as I will now refer to it, really, really surprised me. I thought it looked good from the cover (I love dragons, or Wyverns as I was soon told), but really I had no idea what to expect. The title is an odd one, and it did out me off a bit, I'm not going to lie. But that cover illustration is what drew me in, and I'm so glad it did.
I've been pondering this review for a while, wondering how much to say and what to give away.
Fairyland
strikes me as the kind of book you ned to read blind, knowing nothing about it and not knowing what to expect. That way in can knock you off your feet with its magic and general loveliness.
There are a whole wacky mix of characters in
Fairyland
, ranging from human to weather elements to Wyverns and lamps. They're all endearing and lovable, and I even liked the slightly darker characters that peppered the pages every now and then. Valente's writing is so beautiful and descriptive, it's hard not to get lost in Fairyland and experience everything September is experiencing.
Speaking of September, what a cool girl she is. She's clever and practical, and her heart is as big as Fairyland itself. As brilliant as she is, September isn't my favourite character - that title belongs to The Green Wind. Although he doesn't crop up in the book a lot, when he does it's well worth the wait for his appearance. He's one of the most magical characters to grace the page, and I just wish he was in it more. Maybe we'll see more of him in the sequel? I certainly hope so.
Fairyland
's text is accompanied by amazing illustrations courtesy of Ana Juan, which alone are worth the book price. I couldn't wait to get to a new chapter and see which illustration would be waiting for me. My favourite is still the one that appears on the cover, which by now you've probably guessed is depicting September and A-Through-L the Wyvern.
I'm sorry this review is kind of vague, but I don't want to spoil any part of Fairyland. I want people to read it and get swept away like I did, and be surprised when a new kooky character shows up. This is fantasy fiction at its best, and I hope it's a big hit over here in England. I know it's gone down a storm in the US, so let's hope it gets the recognition it deserves over here too. Add this one to your wish lists immediately!