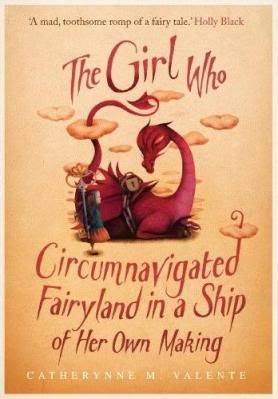 US // UK
Before I start comparing these two covers, I just need to say how much I loved this book. I haven't written my review yet, but I can tell you now it will be getting a high rating. It's so well written and magical!
I'm not sure which of these two covers I prefer. I actually really like them both, though the UK one seems to be standing out that little bit more. I think it's because the image isn't constrained within an oval like the US one, although that really doesn't detract from anything. It's a beautiful illustration, let's be honest. I got very excited when I first saw it as I love dragons! I also like the old feel of the books, especially the US edition. For some reason I always imagine Giles having a copy in Sunnydale High's library!
I prefer the font used on the US version, the background colour of the UK and the bordering of the US. Both are lovely and aesthetically pleasing (I like just staring at this cover), but the UK has a slight edge for me. I do own both copies of this book, and they're both really nice. I'll be keeping both, so that should be some indication of my appreciation for both covers/editions.
That's enough from me, I think. Here's author Catherynne M. Valente with her thoughts on the covers:
I love Fairyland's covers. I've been so lucky—in getting to work with Ana Juan as the illustrator and cover artist, and to have her art turned into such spectacular covers. The US cover is just gorgeous, bright red, just a few shades off of true. It looks like a book you'd find in an attic, a classic children's book—which is, of course, part of the joke. Fairyland is a very modern, even postmodern, book masquerading as a classic.
I was so excited to see the UK edition, though! So many of the editions of the book use the US cover, which is wonderful, but I love seeing the different ways publishers and designers interpret the story. The UK version uses the same image of September and A-Through-L, her half-Wyvern, half-Library companion, but redesigns the colors and layout to be less children's lit and more all-ages. The result is a golden book that just sparkles with life and action. The clouds and soaring key make everything look like it's ready to fly off the page.
I'm thrilled with both editions—Fairyland is an interstitial kind of book, it's both a children's book and an adult novel, both new and old, both literary and full of adventure. The US and UK covers show both sides of the story.
What do you guys think? Do you have a favourite?