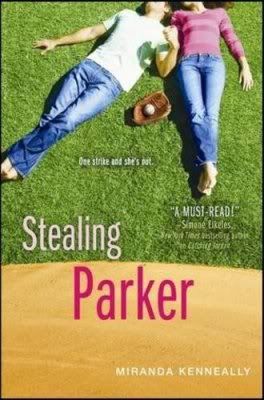 Publisher:
Sourcebooks Fire
Format:
Paperback
Released:
October 1st, 2012
Rating:
6/10
Amazon summary:
Parker Shelton pretty much has the perfect life. She's on her way to becoming valedictorian at Hundred Oaks High, she's made the all-star softball team, and she has plenty of friends. Then her mother's scandal rocks their small town and suddenly no one will talk to her. Now Parker wants a new life. So she quits softball. Drops twenty pounds. And she figures why kiss one guy when she can kiss three. Or four. Why limit herself to high school boys when the majorly cute new baseball coach seems especially flirty? But how far is too far before she loses herself completely?
Review:
Miranda Kenneally is seriously good at writing contemporary YA. Her characters are relatable, her romances are hot and her writing is just generally a great read. Even though I think all these brilliant things, I'm sad to say that
Stealing Parker
didn't quite live up to my expectations. Maybe they were too high after reading
Catching Jordan
(which, by the way, is amazing), I don't know. I enjoyed it, but I didn't love it.
Stealing Parker
is about a lot of things: authority, faith, finding yourself, etc. A lot is covered in quite a short page count, which I'd say is one of Kenneally's strengths. Her books are never fluffy and one-dimensional - they actually mean something and are multi-layered, much like her characters. At times during this book, I felt like there might be a little too much going on, which made it slightly predictable. Not that that's a bad thing, of course!
Parker is a pretty cool character when you get to know her, though some of her decisions are questionable. I didn't warm to her like I warmed to Jordan, but they're very different and I shouldn't really compare them. As a main protagonist, she holds the story and carries it along in many different directions, but to me she was missing that all important spark. Drew and Corndog, Parker's friends, are well written and compliment her well. The less said about Brian, the older coach, the better. Eurgh!
As with
Catching Jordan
, sport plays a big part in
Stealing Parker
. I hope this will be a trend in all of Kenneally's books as I really enjoy reading about girls playing sports and how it changes their lives. Which reminds me, it's also great to see Jordan and Henry get a small cameo in this book. Hurrah!
So, the bottom line is: please read Miranda Kenneally's books. One is beyond brilliant and the other is good. Her writing has made me excited about YA contemporary fiction again and I can't wait to read her next novel.