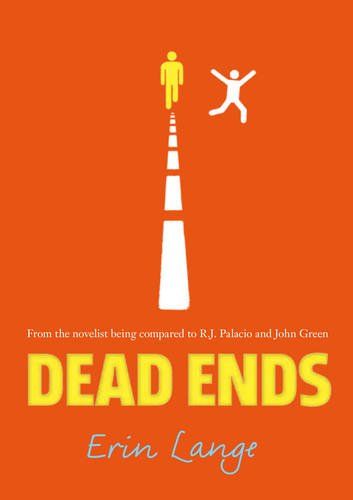 Publisher:
Faber and Faber
Format:
Hardcover / eBook
Released:
February 6th, 2014
Rating:
8/10
Amazon summary:
A riddle rarely makes sense the first time you hear it. The connection between Dane and Billy D doesn't make sense any time you hear it. But it's a collection of riddles that brings these two unlikely friends together. Dane Washington lives by two rules: don't hit girls and don't hit special kids. Billy D has Down syndrome and thinks a fierce boy who won't hit him could come in useful. Billy D has a puzzle to solve, after all, and he has the perfect plan to make Dane help him. Billy is sure the riddles in his atlas are really clues left by his missing dad. Together, Billy and Dane must embark on an epic road trip, although most of the clues lead to dead ends. What Dane doesn't realize is that Billy D isn't as innocent as he seems and the biggest secret is hidden close to home...
Review:
Life-affirming, sad, hopeful: these are all words I'd use to describe Erin Lange's
Dead Ends
.It's her second novel but the first I've read, and I'm not exaggerating when I say I couldn't put it down. I was up reading it until 3am in the morning, then I woke up early the following day to finish it. It's compelling and well written, making it one of the books to watch in 2014.
Dane is a bit of a tough guy; a rebellious straight-A student who likes to use his fists first and think about the consequences later. He lives alone with his mum in a house with unredeemed winning lottery tickets framed on the wall - proof of his mum's lucky streak. He doesn't know who his father is and he doesn't care to find out. When Billy D, a boy with Down syndrome, moves onto his street and attaches himself to Dane through morning walks to school, an unlikely friendship is formed that will most probably span a lifetime. Billy D's dad is missing too, but he left clues in an Atlas that could lead to his whereabouts: all he needs is Dane's help, a car and a huge amount of faith and luck.
Dead Ends
is a coming of age novel that will tug at the heartstrings. It's the story of one boy's acceptance, understanding and friendship, and the path to changing yourself to be a better person. Both Dane and Billy D are fantastic, relatable characters, but my favourite has to be Billy D. He hooked me from early on, with his intelligence and innocence and complete disregard for Dane's pleas to be left alone. Together they make an inimitable team, helping each other and teaching each other lessons they didn't even realise they needed to learn.
I've seen
Dead Ends
likened to R.J. Palacio's
Wonder
, which is an accurate statement. Like
Wonder
, it gives a voice to someone who may have otherwise remained silent, unable to tell a touching and moving story because of a difference in personality or looks. It lets this person's voice be heard, a voice that will speak to readers in similar situations and show them that there's always hope and friendship in the world.
I loved this book because of its sensitivity and its promises; its ability to take two lives and make then into one, through the power of kindness and love. Of course, I also loved it because Billy D stole my heart, as I'm sure he'll steal yours. I'm now really looking forward to reading Erin Lange's first book,
Butter
, in the hope that's it's as good as
Dead Ends
. I have a feeling it just might be.