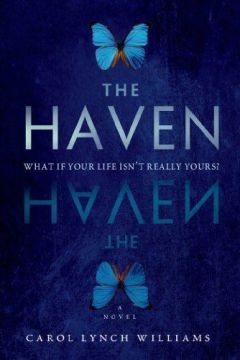 Publisher:
St. Martin's Griffin
Format:
Hardcover
Released:
March 4th, 2014
Rating:
8/10
Amazon summary:
For the teens at The Haven, the outside world, just beyond the towering stone wall that surrounds the premises, is a dangerous unknown. It has always been this way, ever since the hospital was established in the year 2020. But The Haven is more than just a hospital; it is their home. It is all they know. Everything is strictly monitored: education, exercise, food, and rest. The rules must be followed to keep the children healthy, to help control the Disease that has cast them as Terminals, the Disease that claims limbs and lungs—and memories. But Shiloh is different; she remembers everything. Gideon is different, too. He dreams of a cure, of rebellion against the status quo. What if everything they've been told is a lie? What if The Haven is not the safe place it claims to be? And what will happen if Shiloh starts asking dangerous questions?
Review:
Prior to reading
The Haven
I'd heard very mixed reviews about it. It was being compared to a popular book I haven't read and seemed to be one of those books you either love or hate. I really loved it in the end: the idea, writing and execution were all to my taste, as seems to be the case when it comes to anything written by Carol Lynch Williams.
This book is about the Haven hospital, founded in 2020 and home to numerous teenagers. Everything is controlled, there are hundreds of rules and a super strict regime. When Shiloh realises something isn't right and starts asking unanswerable questions, she stumbles into a new world that slowly begins to unravel.
The Haven
starts off fast. It's disjointed, confusing and muddled, but that only adds to the intrigue and succeeds in turning the story into a jigsaw that slowly fits together piece by harrowing piece. I know Carol's writing isn't for everyone, but she continues to be one of my favourites where style and theme are concerned. She would never shy away from a controversial story, which is why I've loved her books ever since first reading
The Chosen One
a few years ago.
Shocking, dark and tense,
The Haven
is a memorable read. It was still whirring through my head a week after finishing it, and that's because I love this kind of story. It's not straightforward or full of happy endings, instead it's bleak and terrifying. It reminded me of how I felt after reading Neal Shusterman's
Unwind
: pure shock and revulsion, coupled with a yearning to know more. That to me is the sign of a great book and a great author, two categories that Carol Lynch Williams and
The Haven
rightfully belong in.