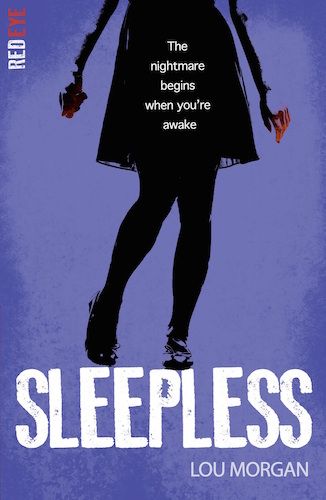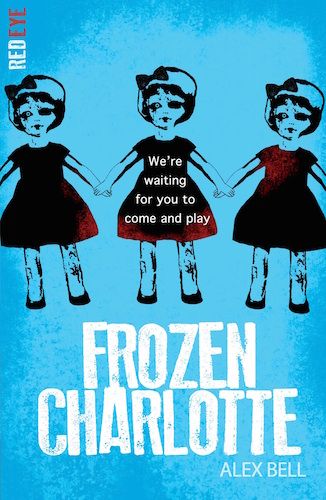 Sleepless
and
Frozen Charlotte
are the first two titles to be published in the new Stripes Red Eye horror series for teenagers and I'm very excited to be involved in the blog tour! Here's more information about this new imprint:
Featuring award-winning authors and rising stars, Red Eye is the killer new YA series from Stripes Publishing. A fusion of pop culture, violence and technology, Red Eye gives horror a frighteningly contemporary makeover that teen readers will love. For fans of all things gruesome and ghastly – prepare to be scared out of your wits….
And here's the
trailer
!
As part of this blog tour the lovely Lou Morgan has written a post all about her new book,
Sleepless
, and why she's turned her hand to writing horror.
Here's what Sleepless
is all about:
Young, rich and good-looking, Izzy and her friends lead seemingly perfect lives. But exams are looming – and at a school like Clerkenwell, failure is not an option. Luckily, Tigs has a solution. A small pill that will make revision a breeze and help them get the results they need. Desperate to succeed, the friends begin taking the study drug.
But as the side effects take hold they realize there are far worse things than failing a few exams.
Thanks to Lou for this post, and don't forget to follow the tour tomorrow when it will be stopping at
Book Zone for Boys
!
~
Why I Write Horror

by Lou Morgan


Two things: first of all, I love horror. Second, I scare easily. And when I say "easily", I mean really easily. Put it this way: I am still emotionally scarred from watching "Jeepers Creepers" the best part of a decade ago. Whistle that tune at me and watch the ceiling. I dare you.

It was probably a dare that got me into this. My best friend in primary school had an older sister who was really into horror. At a ridiculously young age, I was spending bus journeys listening to blow-by-blow accounts of "Halloween" and "Friday the Thirteenth". In my case, this was probably not a wise move.

The Horror Sisters, as we'll call them, lent me a book. "It's about a haunted house." (It was "The Amityville Horror"…).

They lent me another. "Try and get to the end of this one, then…" (Stephen King's "It"). I got about four pages in before I had to stop reading and put it in a drawer. Years later, I've read a lot of Stephen King books - but not that one. The clown gets to stay in the drawer. Along with the dude with the peepers.

The thing I've come to love about horror is how wide it is as a written genre. It spans everything from the mildly unsettling to the downright terrifying - I've never seen a better illustration of that than the collection of specially-commissioned Ministry of Stories creepy stories available from their Monster Supplies shop [http://www.monstersupplies.org], all packed in tins and ranging from "A Vague Sense of Unease" to "Mortal Terror" (I have "Escalating Panic" on my shelf at home). But despite its expansiveness, horror is an intimate genre. To read a horror book - more so, perhaps, than to watch a horror film - is to let it into your head.

Reading a good horror can be cathartic, exhilarating, challenging, frightening. Often all at the same time. But the most exciting thing about horror for a writer is that it doesn't have to be about what it's "about". A zombie story, for instance, might be about commercialism, disease, isolation… even love. Horror stories can be a new window on to a topic we already know - or, by making our fears concrete; by giving them a shape and a name, it lets us confront them.

I suppose that's why I like writing it - and reading it. As a top-class, card-carrying, 100% genuine scaredy cat, there's something comforting about sitting down with a book and going looking for monsters. Once they're stuck to the pages, they're locked in. We have to go find them - not the other way around.

Just like that copy of "It" that I stuck in a drawer, they're only ever getting out if we want them to.